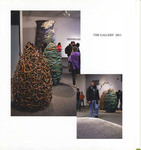 Title
Contributing Artists
Jennifer Abate, Jacqueline Albeltin, Nicolette Absil, Anthony Algieri, Brian Anderson, Mark Angelow, Katie Bakalenko, Cristina Battagiola, Bernadette Baum, Jaimi Belfi, Jenna Bertino, Heather Carbone, Josh Carter, Eric Clark, Melissa Coltri, Terri Coolick, Lauren D'Alessandro, Karlyn De Maris, Maxfield Diehl, Alexis DiSpensa, Dayna Doria, Sean Downey, Joanna Drzaszcz, Eddie Eifert, Chris Ferrante, Heather Fosmire, Stephanie Francis, Katherine Garcia, Erika Gardner, Alex Gencarelli, Nick Gentile, Carmen Gerace, Julie Glasshoff, Debra Greenblatt, Leighanne Hamill, William Hamilton, Erin Hart, Ryan Hoxworth, Chris Hrycenko, Stephanie Hufford, Megan Iannino, Jaime Jimenez, Brenda Kele, Stephanie Keller, Vanie Konneh, Iris Leibowitz, Krissy Lepelis, Stuardo Lopez, Alison Lusardi, Don Macavoy, Yvonne Marki, Lindsey Marr, Renee Martelli, Michelle Massimilla, Bridgette McMahon, John Mitchell, Jason Moya, Corrie Novak, Alexis Novak, Natasha Olivero, Dana Orson, William Ott, Camille Paccaly, Katya Palsi, David Pellon, Timothy Polagye, Karla Raffa, Jacqueline Randall, Samantha Rice, Elisabeth Rosemiller, Jaclyn Roth, Brian Rowan, Adriana Scalfo, Esther Scanlon, John Schieda, Lisa Skala, Lauren Slocum, Sarah Spencer, Rebecca Stirner, Margaret Sullivan, Jeremy Tamburello, Martel Tompkins, Jason Trautz, Elaina Unger, Ray Urena, Kristen Vaughn, Thuy Vo, Qing Zheng.
Files
Download GBP-2011-CoreStudies.pdf (2.3 MB)
Download GBP-2011-Graphic-Design.pdf (2.0 MB)
Download GBP-2011-Illustration.pdf (2.2 MB)
Download GBP-2011-Jewelry-Metals.pdf (2.6 MB)
Download GBP-2011-Painting.pdf (2.6 MB)
Download GBP-2011-Photography.pdf (2.6 MB)
Download GBP-2011-PrintMaking.pdf (2.3 MB)
Download GBP-2011-Three-Dimensional.pdf (2.4 MB)
Download GBP-2011-WebDesign.pdf (1.5 MB)
Description
This is a digital copy of the print content produced by the Gallery 2011 team. The Gallery 2011 consists of a box containing a leaflet, four books, and a USB drive. The leaflet lists the works contained on the USB drive in the areas of Time Based Media and Web Design, and provides credits for the Gallery design production team. Content from the USB drive is not included.
The four books contain the artistic works of students in the following genres: Core Studio/Painting, Graphic Design/Illustration, Photography/Printmaking, and Jewelry & Metals/Three Dimensional. Files for individual sections may be viewed on the detailed metadata page by clicking on the book title.
Publisher
Rowan University
Keywords
Art Department, Rowan University, student artwork
Disciplines
Art and Design
Recommended Citation
Rowan University Art Department, "The Gallery 2011" (2011). The Gallery. 11.
https://rdw.rowan.edu/the_gallery/11
Rights
Copyright 2011 The Gallery. All rights reserved. This book and its contents may not be reproduced in any form by electronic or mechanical means.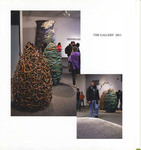 Included in
COinS