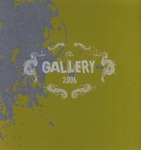 Title
Contributing Artists
Pam Annarilli, Alice Barford, Dana Bartus, Chrissy Batko, Justine Bernius, Adriana Brattelli, Julie Casper, Christopher Chariw, Vanessa Cohen, Laura Contrino, Chris Corozza, Kimberley Drastura, Meredith Eldridge, Briana Feola, Lauren Feury, Donna Gaston, Steve Gelenter, Liz Gembarski, Kathy Gross, Lauren Gulino, Stephanie Harvey, Jason Hasbrouck, Mike Jasorka, Jerry Kaba, Ryan Katz, Jessica Kuderski, Kristen Kuhns, Erica Liss, Gustave Lambert, Cayte Lawson, Dominic Lorusso, Kaitlin McLaughlin, Lisa Morgan, Elizabeth Ricciardi, Tamar Rotstein, Alyssa San Valentin, Bryan Sculthorpe, Kim Sloan, Jason Snyder, Rebecca Stanley, Jason Stewart, Asminder Taluja, Adam Taylor, Maria Teicher, Eric Tran, Brandon Werner, Suzanne White.
Files
Download 2006-GBP-Table of Contents.pdf (319 KB)
Download 2006-GBP-Three Dimensional.pdf (1.5 MB)
Download 2006-GBP-Illustration.pdf (1.5 MB)
Download 2006-GBP-Printmaking.pdf (1.5 MB)
Download 2006-GBP-Graphic Design.pdf (1.7 MB)
Download 2006-GBP-Painting.pdf (1.5 MB)
Download 2006-GBP-Photography.pdf (1.4 MB)
Download 2006-GBP-Index.pdf (349 KB)
Description
This is a digital copy of the print book produced by the Gallery 2006 team. Contents: p. 4 Introduction, p. 6 Three Dimensional, p. 20 Illustration, p. 32 Printmaking, p. 44 Graphic Design, p. 58 Painting, p. 70 Photography, p. 82 Index. The print version includes a CD.
Files for individual sections may be viewed on the detailed metadata page by clicking on the book title.
Publisher
Rowan University
Keywords
Art Department, Rowan University, student artwork
Disciplines
Art and Design
Recommended Citation
Rowan University Art Department, "The Gallery 2006" (2006). The Gallery. 9.
https://rdw.rowan.edu/the_gallery/9
Rights
Copyright 2006 The Gallery. All rights reserved. This book and its contents may not be reproduced in any form by electronic or mechanical means.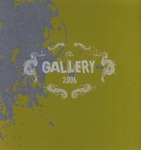 Included in
COinS